To see a raven roll in flight is said to be good luck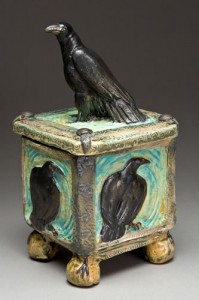 Ravens fly from the adjacent woods and frolic by my studio. I have long admired these beautiful birds of magic and mystery. They act as a daily reminder of how fortunate I am to pursue bliss with a creative gift.
My sculptures and tiles are all original designs. Figures of horses, wolves, ravens and other creatures are the focal point of my work. I strive to create art that resonates with our animal selves-our primal state.
Each tile is individually hand sculpted, glazed and fired. No two tiles are identical. My pieces are both representational and impressionistic. Conveying each animal's essence is given priority over literalism.