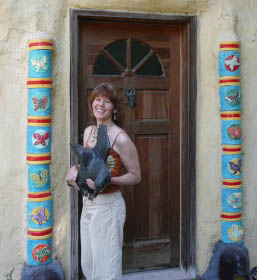 At age seven, I began my professional art career in the Key West Art Gallery, selling handkerchiefs I painted with animals. It was great fun imagining what it would be like to be an animal… a lion on the African veldt or a wild horse galloping around the plains.
I was enchanted by the poems my mother read to me – William Blake's "The Tyger" – and intrigued by the pictures of exotic places in National Geographic Magazine. Even toy animals fascinated me. Large sculptures held me spellbound as I would circle them to view every angle. All this was the stuff of which I make my work. My passion for art has been constant throughout out my lifetime.
I am grateful to my early mentor, the wonderful gentle soul and renowned ceramist Mary Grabill of the Sign of the Sandpiper Pottery Studio. She taught me how to hand roll tiles when I was a young Coconut Grove, Florida street urchin who spent afternoons in her shop.
My passion for academia has been sporadic. My father would often bemoan the fact that I didn't go to art school. Instead, I went to Michigan State University and graduated in 1976 with a Bachelor of Science in Animal Science. From there I moved to Oregon and found employment shoveling horse manure. A discussion with my father regarding the career limitations of manure shoveling led to a degree in Nursing in 1983.
I am now a full-time artist. Several years ago, with the help of friends, I built a studio of straw bales and so that I could devote more time to my creative self and my growing tile and sculpture business. My art gives me a thrill when I feel a form come alive in the clay.Working with clay still gives me the same lively feeling I had as a child galloping as freely as a wild horse.
My work may be seen at Red Raven Gallery in Port Townsend, Washington and in fine galleries and gift shops across the United States.